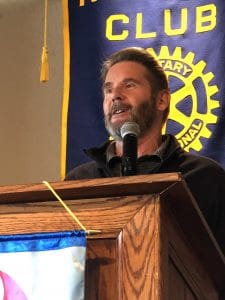 Bob Welch the author the new book The Wizard of Foz, spoke at our Rotary Club today.
Four lessons we can take from Dick Fosbury:
1. Imagination – in mid air in Grants Pass he lifted his butt up and developed a new way to jump.
2. Desperation – in desperate times we come up with amazing solutions.
3. Dedication – he couldn't have quit many times along the way – but he didn't.
4. Re-Education – the greatness of Fosbury came after the Gold when he became a regular full human being.