Having trouble viewing this email? Click here to view it in a web browser.
Volume 2, Number 27, December 15, 2020
Rotary Thanks The COVID Front Line 5110-wide!
By Judy Corwin
The thank yous went District-wide…..in Medford, Newport, Eugene (Beltline), and Corvallis. Rotary District 5110 has launched a Public Image Campaign to thank First Responders and HealthCare Workers for their incredible efforts on behalf of life-saving endeavors during the Pandemic and Oregon Wildfires.
The gratitude is so prominent that Rotary District 5110 launched a Billboard campaign in four communities to acknowledge the tremendous effort by so many! The public image campaign was made possible by Outfront Media and Leigh Deinert, along with Funk/Levis Marketing and Mindy DeForest, who made the campaign possible with their contributions, affordability, design, and passion for the project. The companies offered reduced rates to make them affordable for a non-profit Rotary on behalf of those individuals served.
The billboards will remain on display throughout the holidays through January and possibly beyond to more than 1.22 million viewers who will drive-by these billboards. Click here for more on this story.
---
Here's to Happy Holidays and a "Better" New Year: C'mon 2021!
By Mike and Judy Corwin
The District eNews and website chronicling of our Rotary service and philanthropy wishes you the all the best of the season and will be back to you on
Tuesday, January 5!!
---
The Archie Creek Fire Won't Stop Christmas in Glide
By DG Cindi O'Neil
Pride and gratitude are the feelings that well up these days when I hear about Rotary service projects welling up all over our District for communities in need. The Rotary Clubs of Roseburg, all three, have teamed up to provide Christmas gifts to kids in Glide who have lost their homes in the Archie Creek Fire. Ten members of the local Interact Club and at least 20 members of Rotary shopped to fulfill wish lists for 70 displaced young folks.
Nis Jessen, Fire Relief Governing Committee representative for the Archie Creek Fire, says that when Rotary asked about the pressing needs for families in Glide, this was the response. When we ask and then we act to fulfill these needs, we show great compassionate leadership for our community and our members with a passion to serve. Nis Jessen, members of the Roseburg Rotary Clubs and Interact Club, you make me proud to be a Rotarian of District 5110. Check out this link to hear more: https://rotaryvolunteerconnect.org/podcasts/rotary-giving-tree-of-joy/
In gratitude,
DG Cindi O'Neil
---
Greater Corvallis Graces the Season with Three Strong Projects
By Mike Corwin
Greater Corvallis Rotarians have seen to it that it is a special Holiday season for their local youth, for those without shelter as temps drop, and found a fun way to dip into their own pockets for The Rotary Foundation.
Rotary Club of Greater Corvallis held its seventh annual Children's Holiday Craft Fair in a creative, drive-through fashion on December 5 doubling the number of kids that were provided a Christmas tunnel complete with Santa and Holiday displays. More than 1,000 craft kits and goodie bags were distributed to area children. DGE Gerry Kosanovic was there to provide Holiday music and take pictures. And so was the local paper as the event drew full-page community coverage in the Corvallis Gazette-Times.
In the week following the Fair, club members were "Holidazed" by a special committee of tireless elves from the club.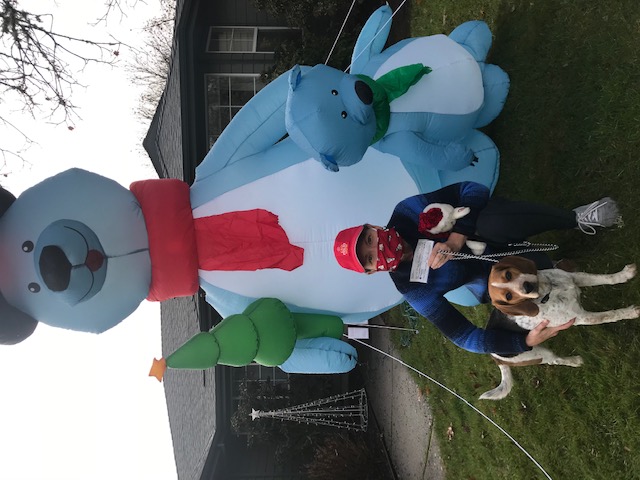 Rotarians were invaded by inflatable Wranglers who placed large holiday snowmen, dinosaurs and St. Nicholas inflatables in front of Rotarians homes in an effort to raise dollars for the Rotary Foundation. By week's end more than $10,000 had been raised as Rotarians paid out donations to have the inflatable moved to their favorite Rotarians front lawns.
We also learned about Unity Shelters of Corvallis from RCGC Rotarian Jim Swinyard, who is helping to build microshelters for homeless. Several area contractors, including our Rotary PE Dave Henderer, are helping to build these microshelters. This is a City of Corvallis, Church, and Contractor project with local Rotarians in the lead.
Here's the link https://www.unityshelter.org/sp-microshelters.html.
---
District Express Grants Available for December Requests
By Michele Kellison

The Rotary Club of Cave Junction/Illinois Valley used a $500 Express Branding Grant to publicize their community clean up work. Clubs have until December 31 to apply for a such $500 2020-2021 District Express Grant.
Each club can apply for either a Branding Grant, Literacy Grant, New Member Engagement Grant or Remote/Hybrid Meeting Technology Grant. For info contact, Executive Assistant Governor, Michele Kellison at 541-753-5441 or michele@mkcpa.us.
---