Having trouble viewing this email? Click here to view it in a web browser.
Volume 2, Number 21, November 3, 2020
Leading Change Speaker Series Features Former RI President Nov. 19
By Paul Nicholson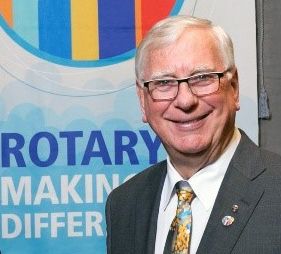 Former Rotary International President Ian Riseley
will address Rotary's newest Area of Focus—the environment—as your District 5110 leadership team brings you the fourth in our speaker series exploring some of the biggest issues facing Rotary and the world on Thursday, November 19 at 7 p.m.
Click here for the whole story and to register.
Riseley was RI President in 2017-18 carrrying through on the theme, Making a Difference. The member of the Rotary Club of Sandringham, Victoria, Australia will address the most recent addition to Rotary's Areas of Focus, Supporting the Environment as he is interviewed by 5110's District Governor Cindi O'Neil and District Environmental Committee Chair Nikki Rizzardini. Rizzardini, a member of the Springfield Twin Rivers Rotary club, appreciates the emerging connection between creating sustainable Rotary projects while sustaining the world. She attended the Sustaining the Environment and Peace Conference in Vancouver BC a couple of years ago, where she met Ian Riseley and was inspired by him to do more.
Riseley said, "Environmental degradation and global climate change are serious threats to everyone. They are having a disproportionate impact on those who are most vulnerable, those to whom Rotary has the greatest responsibility."
---
Jefferson Cty. Rotarian/Realtor Donates Client Thank Yous to Polio-plus
By Mike Corwin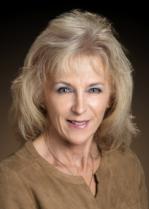 Jefferson County Rotary Club's two-time President and current Rotary Foundation Chair Meg Cummings is dedicated to her real estate profession and through it, the Rotary signature effort to eradicate Polio. For every real estate transaction she completes, she contributes $50 on behalf of the buyer and/or seller or both to The Rotary Foundation's Polio Plus program.
"If my calulations are correct—this year I have contributed $2,250. I started this in 2017 when I took over as Club President for my second time and I believe I've donated $9,900 since then just for the client gifts of appreciation. I do it anywhere from three to six times a year." explained Cummings.
She wanted to vary from the usual realtor route of giving her clients a bottle of wine or a plant. Instead, she sends them a letter of appreciation and it will be followed up with Rotary International's acknowledgment of the gift in their name. Cummings concluded, "I want to give back to the world, and leave a legacy. I try and live my life motivated by Michael Josephson's poem, "What Will Matter". Giving significantly to Polio Plus is one of my ways to accomplish that and it benefits from Bill Gates' two-or-three-to-one match toward the polio eradication effort.
---
5110 Biz of the Week: Tom Nichols, RE Broker in Redmond
By Bill Grile
In 1911, Paul Harris wrote that Life in Rotary should be a rational mixture of business, civic activities, and good fellowship. He launched Rotary for like-minded business professionals to amplify their fellowship and through Rotary, to strengthen businesses as well as communities.
The D5110 Rotary Business Network (RBN) builds on these core principles established over a century ago. After all, wouldn't you rather do business with a Rotarian?
This week D5110 salutes a relatively new Rotarian, Central Oregon Real Estate Broker Tom Nichols. Sponsored by Redmond Rotary Past President Marv Kaplan, Tom moved to Central Oregon in 1993 after graduating from Pepperdine University. Tom began a career as a general contractor, then transitioned into real estate. He stresses the importance of building relationships to help clients achieve dreams. Learn more about Tom at rotarybusinessnetwork.org/business-listing/tom-nichols-real-estate-broker-central-oregon/
.
If your business is not listed, click on rotarybusinessnetwork.org/pricing/ and add your business with either a FREE listing or select one of the upgrade opportunities providing greater visibility. See how it works at https://youtu.be/bLDjnfsLLYg
---
DG Cindi's Eugene Southtowne Visit As They Assist Families in Need
By DG Cindi O'Neil
Sometimes you volunteer to pack food boxes for people in need. Sometimes you get to work side-by-side with people who have extraordinary stories from just about everywhere. Today we are with District Governor Cindi O'Neil as her latest podcast joins The Eugene Southtowne Rotary and other Rotary clubs packing food boxes and sharing stories.
Take a listen at https://rotaryvolunteerconnect.org/podcasts/sothtowne-rotary-food-boxes/ Come along with District Governor Cindi O'Neil as she travels District 5110 exploring all the great things we do for our communities.
---
Greater Corvallis Rotary to Host Children's Holiday Faire Dec. 5 after 1100 Enjoyed Their Halloween Event
By Mike Corwin
The Rotary Club of Greater Corvallis has developed alternative details to be able to host its eighth annual Children's Holiday Faire in a COVID-safe environment on Saturday, December 5 at the Solar Building in the southwest corner of the Benton County Fairgrounds.
The club treated local youth to a similar Halloween event in the same location on October 30 handing out 1,147 bags of candy to more than 500 vehicles that went through the trick-or-treat tunnel (photo to the left).
In December, they are inviting families to enjoy the festivities safely from their vehicles as they drive through the creatively decorated Christmas scenes. At the end of the display of scenes, each child will receive a bag filled with pre-packaged crafts to take home and make and treats to enjoy. There will be free admission, however registration is encouraged so to accurately provide adequate opportunities for all youth between three and 12 years of age. Click here for all the successful details of Rotary making sure the Holidays beat the challenge of COVID in providing this special time of the year for our youth.
---
Zoomed out (see photo)?? Other light thoughts for your Rotary week/life
By Mike Corwin
< Let's start with how many of us feel after all these hours on Zoom—see photo to the left. 🙂
And now quoting some additional well-versed thoughts to put a smile on your day:
"I used to think I was indecisive, but now I'm not so sure." Stephen Wright
"Don't worry about the world coming to an end today. It's already tomorrow in Australia." Charles Schulz
"Think like a proton. Always positive." Unknown
"Be happy – it drives people crazy." Unknown
"You're only given a little spark of madness. You mustn't lose it." Robin Williams
---
Tell Us Your Story:

The Brand/Public Image team in District 5110 welcomes news items for consideration toward the website, eNews, social media, or other publicity that might be of interest to our audiences. Please complete this form and submit it.
---
To unsubscribe from future emails, please click on this link: Unsubscribe