Having trouble viewing this email? Click here to view it in a web browser.
Volume 2, Number 18, October 13, 2020
The Gov's October Message: Imagine the day when we get to ZERO.
By DG Cindi O'Neil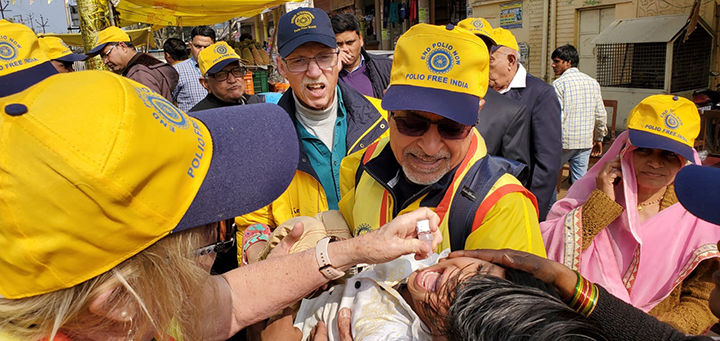 Imagine the day when we get to ZERO. The day that Polio is gone forever. The day that we can say that no child, worldwide, will be crippled or die from this insidious virus for all the years to come.
Imagine how you will feel.
You will feel pride in Rotary, an organization that dared to get to ZERO. You will feel the honor of being part of an organization that had the grit to go the distance, to partner with world health organizations, and to raise the funds necessary to beat this disease forever. Click here to complete the reading of DG Cindi's message and your opportunity to give to the the Polio Plus Fund.
---
The Eugene Mission: Rotary Partners to Restore Lives
By DG Cindi O'Neil
The Eugene Mission is so much more that a homeless shelter. It is a place where people can feel safe, regain their health and mental wellbeing, and perhaps begin a new life of self-sufficiency and independence from extreme poverty.
The Eugene Mission also is a distribution center for food for other community pantries and community food insecurity programs. Thousands of pounds of food are saved from the dumpsters each day, providing great nutrition for those in need. Even clothing and housewares are available for people to rebuild their lives. Rotary partners with the Mission weekly to help redistribute food and provide meals for those that are housebound throughout Eugene. Rotarians sort clothing and other tasks. The list of other helpful volunteer work is endless.
Listen as our own Rotary Hero, Eugene Delta's Beth Sheehan describes the good works of the Eugene Mission. Here is the link to the podcast episode: https://rotaryvolunteerconnect.org/podcasts/rotary-and-the-eugene-mission/
---
PolioPlus in a COVID World — Global Caliber Presenters Speak Thursday 7p.m.
By Paul Nicholson

October is PolioPlus month, and the Oct. 15 Rotary Now!/leading Change is set to bring you two outstanding presenters — John Hewko, the General Secretary and CEO of Rotary International, and Dr. John Vertefeuille, the Polio Eradication Branch Chief and Incident Manager in the CDC Polio Emergency Response, based in Atlanta. You won't want to miss this opportunity to hear from experts in the eradication of polio, so Click Here to Register!
Hewko is uniquely in the center of everything Rotary is doing in the fight against Polio. Through an interview format with Nelson Maler, District Polio Chair, he will share the latest numbers and talk about efforts being made to eradicate the wild Polio virus from the last two countries in the world.
Dr. Vertefeuille, an eminent scientist and expert from the Center for Disease Control
(CDC.), is responsible for overall leadership and programmatic direction of CDC's global polio activities.
Click here for the full story on these two noted speakers to address us on the fact that we are "this close" toward polio eradication.
---
October Membership Forum: Fun Social Ideas to Engage Members
By Chris Waugh
Our next District Membership Forum is Tuesday, October 20th at 10am via zoom. We will focus on Engagement through fun social events. This is an opportunity for clubs to share their challenges and solutions.
This month's facilitator is Julie Aubry. She is the Regional Membership Officer (RMO) at Rotary International World Headquarters working with western United States and the south west part of Canada (Zones 26 & 27). She works with club, district, and zone level volunteers to support membership growth and engagement through strategic planning; vibrant membership initiatives; new club development; and promoting membership resources, tools and data. Click here for more on this month's speaker and the website story that gives you a route to more information.
The District Membership Forum is every third Tuesday at 10am, and focuses on topics chosen by those attending the last forum. Here's the link: us02web.zoom.us/j/82289120983 or dial in at 1-669-900-6833. .
---
#Rotary Steps Together Update
By Judy Corwin
Thank you Rotarians for your continued support and for being a valued participant on the #RotaryStepsTogether campaign. The campaign is still going through Nov. 15. The images above show is a quick summary of what you and other #RotaryStepsTogether participants did over the last seven days.
Click here to get moving for Rotary!
---
5110 Biz of the Week: Tiaras N Jewels and Jane Scheidecker
By Bill Grile
Healthy businesses support engaged Rotarians, and engaged Rotarians produce vibrant Rotary clubs. This week's Rotary Business Network Business of the Week salutes Tiaras N Jewels and its owner, Eugene Rotary Club member Jane Scheidecker.
Jane, a Rotarian since 1992, transformed a love of gems and stones from her earliest years growing up in Montana where garnets, sapphires, and agates were abundant. Everything in her small shop is fabricated from sheet and wire. She works alone without employees or helpers, and designs, fabricates, packs and ships everything herself. And she still makes Rotary a priority.
Click here to check out Tiaras N Jewels and all the benefits of participation in the District 5110's Rotary Business Network. To read more about the Rotary Business Network, go to: rotarybusinessnetwork.org/business-listing/tiaras-n-jewels-handcrafted-jewelry-by-jane-scheidecker-eugene-rotary/
---
George Carlin II brings your Rotary week/life into focus
By Mike Corwin
Some additional perceptive gems from the great George Carlin:
1. Frisbeetarianism is the belief that when you pass, your soul goes up on the roof and gets stuck there for who knows how long.
2. Some people see the glass half full, others as half empty. I see a glass that's twice as big as it needs to be.
3. How is it possible to have a Civil War??
4. Most people work just hard enough not to get fired and get paid just enough money not to quit… (and then there are Rotarians!!!!—have a great week!)
---
---
To unsubscribe from future emails, please click on this link: Unsubscribe