Having trouble viewing this email? Click here to view it in a web browser.
Volume 2, Number 17, October 6, 2020
PolioPlus in a COVID World — Global Experts Speak to 5110 Oct. 15
By Paul Nicholson

October is PolioPlus month, and the Oct. 15 Rotary Now!/leading Change is set to bring you two outstanding presenters — John Hewko, the General Secretary and CEO of Rotary International, and Dr. John Vertefeuille, the Polio Eradication Branch Chief and Incident Manager in the CDC Polio Emergency Response, based in Atlanta. You won't want to miss this opportunity to hear from experts in the eradication of polio, so Click Here to Register!
Hewko is uniquely in the center of everything Rotary is doing in the fight against Polio. Through an interview format with Nelson Maler, District Polio Chair, he will share the latest numbers and talk about efforts being made to eradicate the wild Polio virus from the last two countries in the world.
Dr. Vertefeuille, an eminent scientist and expert from the Center for Disease Control
(CDC.), is responsible for overall leadership and programmatic direction of CDC's global polio activities.
Click here for the full story on these two noted speakers to address us on the fact that we are "this close" toward polio eradication.
---
DG Designate for 2023-24 is Illinois Valley's Jim Polk
By DG Cindi O'Neil
On behalf of the District, we are pleased to announce that the District 5110 Nominating Committee has formally met and put forth the name of Charles J. (Jim) Polk, a member of the Rotary Club of Illinois Valley, to serve as District Governor in the year 2023-2024.
As required by our nomination policy, the District Governor shall pass this information on to each club within 72 hours of receipt of the name, along with the candidate's qualifications. Should a club feel there are issues with the nominee and wish to challenge, they will have 14 days from October 6 to notify the District Governor. That date will be Tuesday, October 20.
Click here for the full bio of your 2023-24 District Governor, Jim Polk……congrats, Jim!!
---
DG Cindi's Podcast: Rotary Responds to the Phoenix-Talent Fire
By DG Cindi O'Neil
Photo courtesy of Fox26 Medford
On Tuesday, Sept. 8 fire broke out just north of Ashland, OR. Firefighters were quickly overwhelmed by the speed and intensity of the wind-fueled wildfire tearing north from Ashland along Interstate 5. The towns of Phoenix and Talent were lost. It came to be known as the Almeda fire. The fire ended up displacing an estimated 3,000 residents and destroyed an estimated 2,357 residential structures.
On Monday, Sept. 21, less than two weeks later, Rotary District 5110 had raised $25,000 through a Rotary Foundation Disaster Relief Grant and helped the fire victims buy the tools they need to continue working. Many had clients, they just needed the tools. Restoring the ability of the fire victims to reclaim their dignity and return to work is vitally important to Rotary. These are their stories at https://rotaryvolunteerconnect.org
---
Linn, Benton & Lincoln County Rotaries Aid Meals on Wheels With $18k
Story courtesy of Oregon Cascades West Council of Governments
The Rotary Club of Corvallis partnered with the Greater Corvallis, Philomath, Albany,
Greater Albany, and Newport Rotary clubs to obtain a Rotary District Matching Grant, providing $18,525 in grant funds to the Meals on Wheels Program. The Rotary Grant helps Meals on Wheels address the surge in demand for assistance resulting from COVID-19 restrictions which have been accentuated by the fire and smoke emergencies.
Meals on Wheels is a program of Oregon Cascades West Council of Governments and serves Linn, Benton, and Lincoln Counties reaching 1,300 older adults and adults with disabilities who aren't able to get to grocery stores and otherwise access nutritionally balanced meals. The program provides 23,000 meals per month and also allows for a well-check on the housing, health, and other conditions of the recipients. For further information and opportunities to donate and/or volunteer, go to: http://www.ocwcog.org/community-services-programs/meals/. Click here for the 5110 website story.
---
Albany Rotary Banners Honor Vets, First Responders
Story Courtesy of Alex Paul of the Albany Democrat Herald
In 2018, Sweet Home volunteers installed 40 large banners to honor local veterans through the community's Hero Banner Project. Former Mayor Jim Gourley and his wife, Lisa, a current member of the council, got the idea from communities in California and Nevada.
Now the two Albany Rotary Clubs are working together to do the same thing locally, since this year's Albany Veterans Day Parade was canceled due to the coronavirus pandemic.
"Jay Burcham saw the banners in Sweet Home and mentioned it to me during our weekly lunch together," Rotarian Mike Martin said. "Of course it's a great idea."
Martin said the Rotary Clubs are working with the Oregon Department of Transportation, since anything that hangs over a state roadway has to be approved. "We hope to get started by Oct. 14 and have the banners up through Thanksgiving," Martin said. Click here to go to full details on this great service story out of Albany.
To learn more or to register for a banner, contact rotarybannerproject@gmail.com.
---
2021 Group Cultural Exchange to South Africa: Applications due Oct. 15
By Rae LaMarche
District 5110 is proud to announce a Group Cultural Exchange (formerly Group Study Exchange) with District 9400 in Africa. A team of 3-4 team members plus a team leader will travel to District 9400 in April 2021, just in time to celebrate their district's 100th Anniversary. Both teams will return to Oregon together and attend our District Conference. Each team will spend 3-4 weeks abroad and each team member's cost is $700 to help defray training and materials expenses. Application materials and fact sheets are available. Click here for the full website story and to learn more.
(*Covid-19 caveat: Although we will continue to plan for this adventure, should travel not be possible due to the Covid 19 pandemic, the trip will be postponed one year. We request your patience and understanding.)
---
Next couple of weeks–our levity comes from George Carlin
By Mike Corwin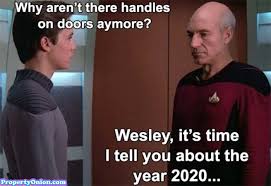 Congrats if you read this far into this week's eNews…you earn three deep thoughts from the great George Carlin:
1. Don't sweat the petty things and don't pet the sweaty things.
2. I went to a bookstore and asked the saleswoman, "Where's the self-help section?" She said if she told me, it would defeat the purpose.
3. Have you ever noticed that everybody driving slower than you is an idiot, and anyone going faster than you is a maniac."
More to come…….be safe and serve….it's the Rotary way!
---
Tell Us Your Story: The Brand/Public Image team in District 5110 welcomes news items for consideration toward the website, eNews, social media, or other publicity that might be of interest to our audiences. Please complete this
form
and submit it.
---
To unsubscribe from future emails, please click on this link: Unsubscribe