Having trouble viewing this email? Click here to view it in a web browser.
Volume 2, Number 50, June 8, 2021
The June 24th District Governor Baton Pass
By DGE Gerry Kosanovic
The beginning of the 2021-22 Rotary year will soon be upon us. On July 1, clubs throughout the world will welcome a new Club President to guide members toward service success. Likewise, 535 Rotary districts will witness the leadership
baton pass from the District Governor to the District Governor-Elect.
By tradition, the home club of the incoming District Governor will host a Governor Changeover event. In District 5110, for the first time, this event will be digital allowing attendance without travel. Mark your calendars to join this Zoom experience on Thursday, June 24, 2021, at 5:00 p.m. At that time, the Rotary Club of Greater Corvallis will present a snapshot of the club's activity as they introduce their home club member, District Governor-Elect Gerry Kosanovic.
A Zoom link will be sent to all Rotarians via email on Monday of that week (June 21). So, grab your favorite refreshment, sit back, and enjoy the leadership baton pass as we welcome the next District 5110 Governor and extend our gratitude and thanks to DG Cindi O'Neil on Thursday, June 24.
---
Our Polio Progress By the Numbers
By Tim Mobley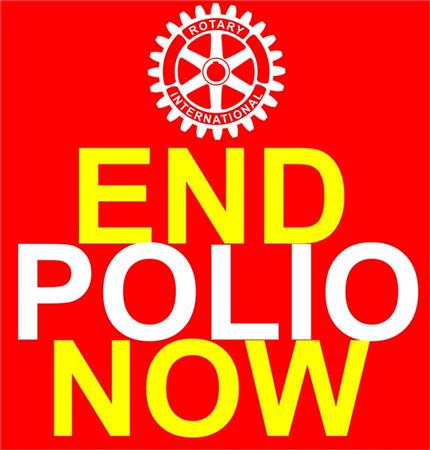 Wild Polio Virus – ONCE AGAIN…NO NEW CASES this last week.
ONE HUNDRED AND FIFTY-TWO – The number of days since the last case of the wild poliovirus Type 1 occurred in Afghanistan.
ONE HUNDRED AND TWENTY-SIX – The number of days since the last case of the wild poliovirus Type 1 occurred in Pakistan.
TWO – The total number of cases of the wild poliovirus Type 1 that occurred in the world since New Years Day.
SIXTY-ONE – The number of cases of the wild poliovirus Type 1 that occurred in 2020 on this date. Last week marks the EIGHTEENTH WEEK IN A ROW that there has been no reported new cases of the wild poliovirus in either Pakistan or Afghanistan. And on top of that, the FOURTH WEEK IN A ROW that there has been ZERO positive environmental samples.
We continue to push the envelope out to four weeks without a single case OR positive environmental sample of the wild polio virus. OK, you know the routine… ONE, TWO, THREE, FOUR…DANCE (4 for the fourth week) !!!!
Your donations are making a difference.
🙂 Tim
Tim Mobley
District Governor 2014-15
DRFCC 2019-22
---
June 19 Global Peace Conference: Weaving a Shared Future Together
By Carol Fellows
The Rotary Peace Fellowship Alumni Association (RPFAA) will hold their annual 24-hour Global Peace Conference

on June 19. Like the inaugural year, the conference will cross all time zones in a continuous 24-hour program and is no typical academic conference or business networking opportunity.
Whatever your time zone or regional interest, there will be a full day of online programming that includes keynote speakers, peace and conflict resolution training and skill building, opportunities to connect with various communities of practice in the peace field, and knowledge sharing. Translation will be available wherever possible.
We are expected to have 1500 participants, 400 experts, 140 break out room facilitators, 50 panel sessions and workshops and 75 hours of content on issues.
Our speakers include Prof. Roger MacGinty who is known for his work on 'everyday peace'; Ambassador Walter Gyger, who is the Rotary International Representative to the UN; Rotary International leadership; survivors of the Nagasaki atomic bombing; and youth activists as young as13-years of age. Skills-based workshops will also focus on indigenous peacebuilding strategies; discovering your peacebuilding skills; peacebuilding through food, arts, sports and drama; measuring peace; and having courageous conversations. Our value is dialogue, collaboration and action, so everyone – YOU included – has a part to play in influencing the positive results of our conference.
Share the news. Register today at our conference website. The conference registration is free but welcomes donations as you are able to pay. Follow this and other events on Facebook and our site Rotary Peace Fellow Alumni Association. Send queries to gpc-2021-enquiries@rpfaa.org.
---
Tips Toward Your Membership Done Right
By Christine Waugh
Mentorship Done Right will be the focus of the Tuesday, June 15 District Membership Forum at 10 a.m. on Zoom. Many clubs struggle with involving their new members – which is so important for retention. Does your club have a mentor program? Does it work well? Come and share your secrets. Do you have other ways you involve new members? We want to hear about them. Are you struggling? Let us help!
This month our District 5110 Membership Chair, Christine Waugh, will facilitate your discussion on mentorship.
Prepare to think outside of the box and refine your approach to this Mentorship. Christine owns Leader Support Service and is a Business Consultant. She focuses on the people side of the organizations she serves, because people are your most expensive and valuable asset. If you have people problems, though, you have business problems (and the same goes for a Rotary club.) She helps her clients optimize that talent, creating higher productivity and loyalty.
The District Membership Forum is held every third Tuesday at 10am, and focuses on a topic chosen by the participants. Registration is not necessary, and is open to any club member with an interest in membership. Here's the link for the Forum every month: us02web.zoom.us/j/82289120983 or dial in at 1 669 900 6833. For more information, contact Chris Waugh or click here.
.
Link to meeting: us02web.zoom.us/j/82289120983. Thanks