Having trouble viewing this email? Click here to view it in a web browser.
Volume 2, Number 45, May 4, 2021
DG Corner: Annual Business Meeting Highlights Accomplishments
By DG Cindi O'Neil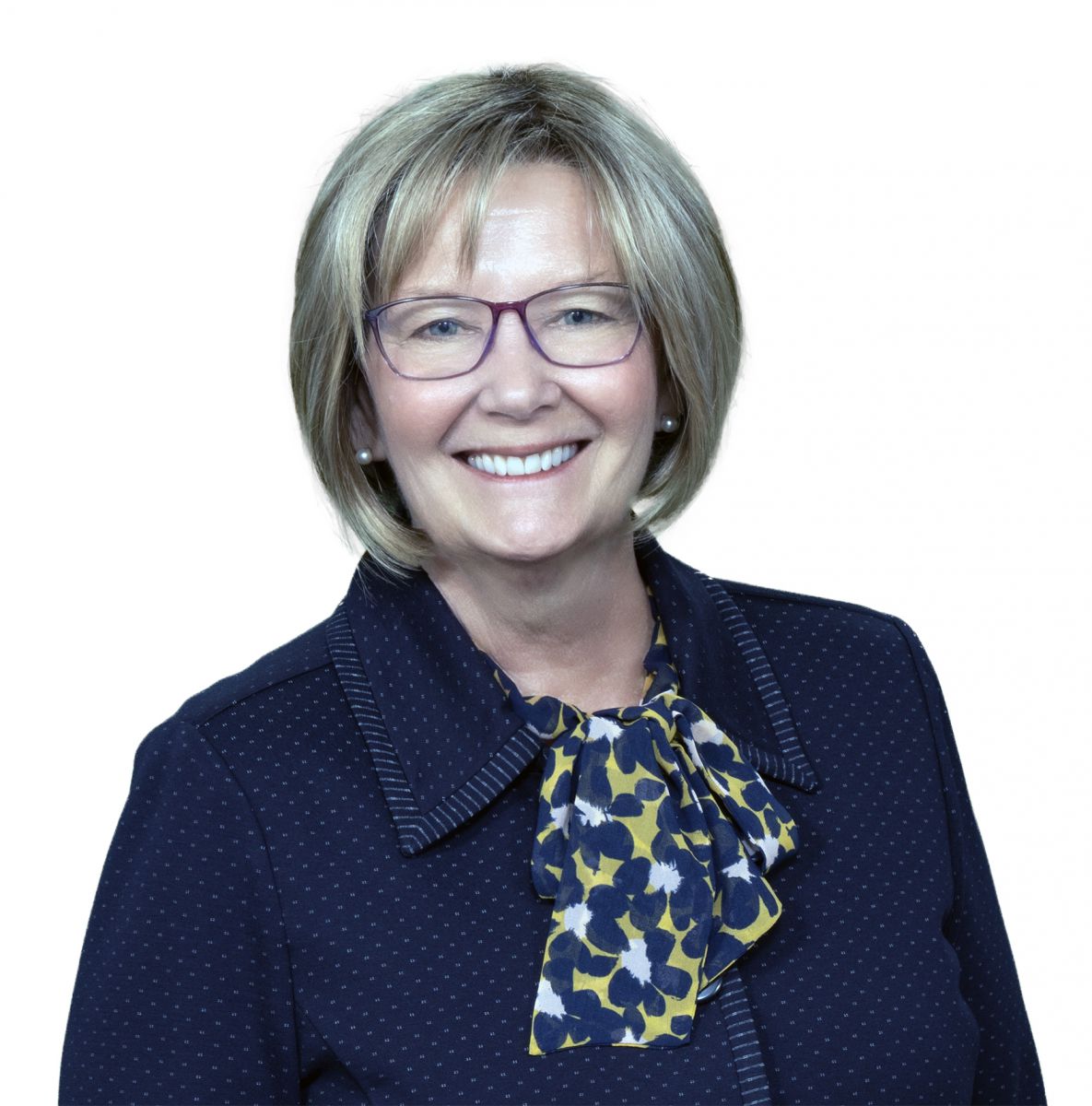 District Leaders and District Committee Chairs met to review the accomplishments of the 2020-21 Rotary Year on Saturday. Despite the challenges of the year due to COVID, social unrest, and devasting wildfires the business of Rotary continued without disruption. In fact new programs or ways of delivering our programs emerged to replace our traditions.
Rotary Leadership Institute was paused and replaced with seven contemporary forums called "Rotary Now!/Leading Change." Public relations found more ways to expand the Rotary brand through billboards and podcasting. The Rotary Business Network gained new members and new benefits for Rotarians hoping to connect and sustain their businesses. District Grants, Global Grants, Peace Scholars, and Peace Fellow programs continued without pause. The District applied for two Disaster Relief Grants and received funds to put fire victims back to work with three re-tooling programs. RYLA went virtual and the camp was a resounding success.
We have much to be proud of this year. Thank you Rotarians of District 5110!
---
Deadline extended to May 15 for District Award nominations
By Charles J. Polk
DG Cindi O'Neil has extended the deadline for submitting nominations for District Awards and Recognition to May 15! Awards will be presented at the District 5110 Celebration,August 26-29, at the Deschutes County Fairgrounds.
Do you have someone in your club, has your club done a project or undertaking, or it there anyone in District 5110 worthy of recognition? Now is your chance to give a pat on the back. Click here for the Call for Nominations and the Nomination Form. Please feel free to contact Beth Sheehan, District Secretary and Committee Co-Chair or co-chair Jim Polk, if you have any questions or if you need additional information.
---
SAVE THE AUGUST DATES: Celebrate 5110 Rotary 2020-21 in Redmond
By DG Cindi O'Neil

Join us for the 2020-21 Rotary Celebration in the out of doors!
SAVE THE DATE: August 26,27,28 at the Deschutes County Fair and Expo Center, Redmond, Oregon.
Thursday: Golf Tournament and an Evening Paul Harris Dinner
Friday: Drive in Theatre Style Opening Ceremonies (at noon), Awards, Keynote and the High Street Dance Band
Saturday: Keynotes, Breakouts, and an evening finale at the Drive-In Theatre.
Reserve your space now at the Deschutes County Fairgrounds RV Park: https://www.bookyoursite.com/campgrounds/expo-center-rv-park
---
Hoskins and Team Make eRYLA a Hit for 75 Students
By Mary Hoskins
It was a bold experiment, but eRYLA exceeded our expectations. Facing a second year without camp RYLA, the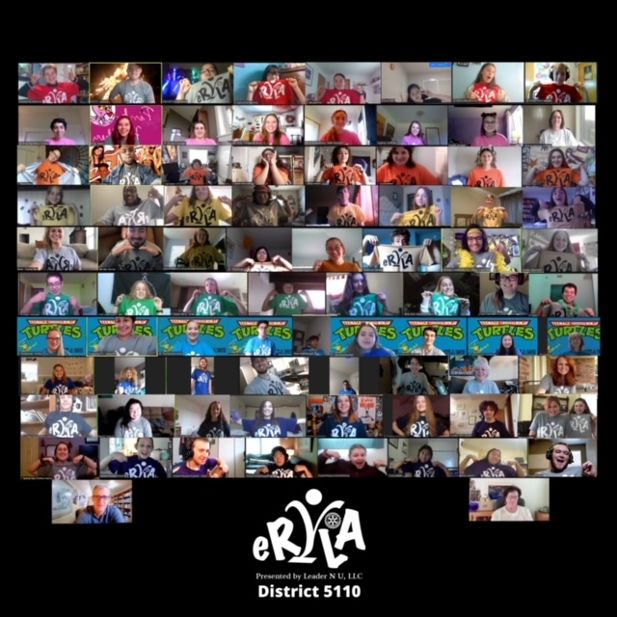 District 5110 RYLA executive committee chose to contract with a Rotarian team that has developed and successfully implemented virtual RYLA experiences in several Rotary districts…Leader NU, with Bridget Markwood at the helm, has a seasoned, energetic and charismatic team of young facilitators and counselors. They delivered!!
75 students from District 5110 were sponsored by Rotary clubs. Students were first engaged with a virtual orientation, then received individual retreat "crates" stocked with goodies, fun toys, and envelopes containing team assignments and learning materials. This was NOT "Zoom school"! Campers admitted starting the week, Wednesday evening April 28, with some skepticism – most had been in school all day. They quickly engaged with a vibrant, energetic leadership team, well-designed learning activities, and active support and encouragement.
The powerful experiences culminated for me with the final bonfire (yes, it's possible!) on Saturday night, after a long day. In an environment of safety and trust, campers shared their deepest fears and challenges and expressed the growth and connections that RYLA made possible. To Rotarians' delight, the RYLA magic happened, and at a time when students clearly needed it.
---
Annual Meeting Minutes and Resource Links
By Judy Corwin
DG Cindi O'Neil said it multiple times: Rotary District 5110 accomplished so much in what was a challenging COVID year. O'Neil complimented the determination and spirit of Rotary under her leadership at the Annual Business Meeting, May 1, 2021. Secretary and Financial reports were unveiled, along with the adoption of two policies.
Click here to read what DG Cindi had to say about the year.
Rotarians from throughout the district attended the Zoom event to share accomplishments more than 35 categories, including membership, friendship exchange, RYLA, fund-raising, training, peace fellowship, polio plus and so much more. The complete version of minutes, report, and financials are available at these links:
---
Doing Business with Rotarians: A Salute to Tom Hoyt Attorney, P.C.
By Bill Grile
In 1911, Paul Harris launched Rotary to leverage friendships and build ethical business relationships. He knew doing this would strengthen businesses as well as communities. The Rotary Business Network aims to do likewise.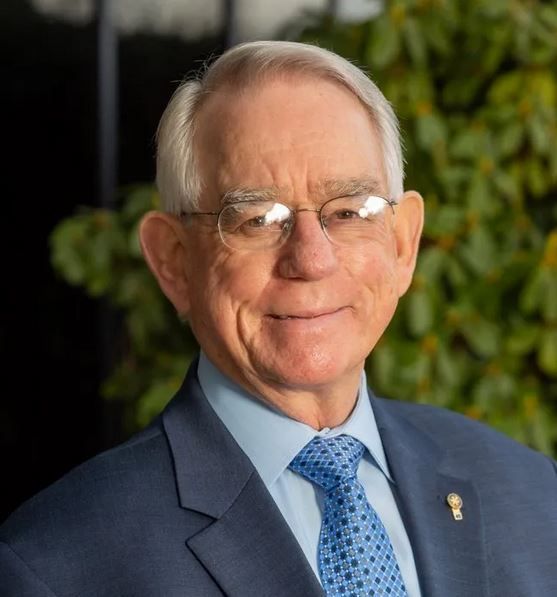 This week we salute Tom Hoyt, an experienced practicing attorney in Eugene and a "Rule of 85" member of Eugene-Delta Rotary Club. Let's celebrate Tom's 46 years in Rotary! His specialty is wills, trusts and estate planning. Tom also has many years of experience handling business and real estate matters and dispute resolution.
Check him out by clicking here. After all, wouldn't you rather do business with a Rotarian you can trust? Every D5110 Rotarian with a business or profession is entitled to a listing in the Rotary Business Network directory.
Every D5110 Rotarian with a business or profession is entitled to a listing in the Rotary Business Network directory. If your business is not listed, click here to learn more. Visit the Rotary Business Directory or contact Rotarian Dan Smith if you have questions.
---
Eugene Metro Extends Reach of SF Club Effort
By Heather Edwards
Friends and Fellow Rotarians – as the spike in hate crimes against Asians and Asian-Americans continues to rise in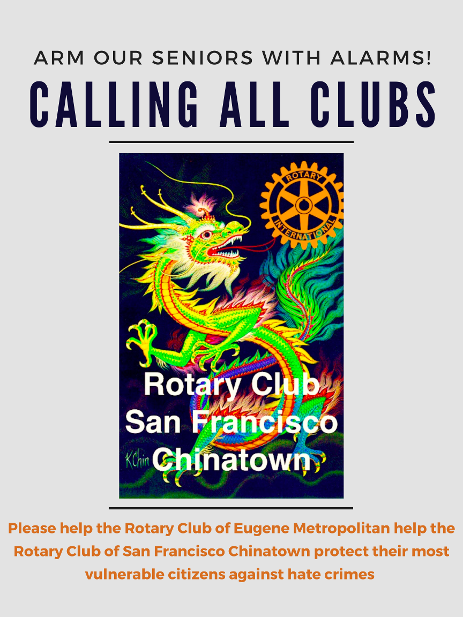 this country, our friends at the Rotary Club of San Francisco Chinatown are distributing Sabre personal alarms to protect its most vulnerable citizens – the majority of whom are seniors and many of whom don't speak English.
Each alarm can be clipped to a pocket or lapel instead of risky whistles that require people to take down their masks and allow perpetrators the opportunity to choke them with the lanyard. This allows vulnerable people, particularly seniors, to go about their daily lives, to buy groceries and to feel secure when they're walking in their own neighborhoods. Here is a video of Chinatown club president Paul Chin demonstrating.
The Rotary Club of Eugene Metropolitan has a high-impact low-cost "immediate needs" grant program that allows for responsive action. For any club that would be interested in matching our $100 seed to the RC of San Francisco Chinatown, we would love to multiply the impact of our support of their compassionate work. We are already up to $500 as of Thursday, April 29th. If you or your club would like to make a tax-deductible contribution to help our neighbors please send checks to:
The Eugene Metropolitan Rotary Foundation
P.O. Box 24845
Eugene, OR 9702
For any additional questions please feel free to email Heather Edwards at heather.m.edwards@gmail.com
---
Assorted Levity for Your Rotary Week/Life
By Mike Corwin
While the doctor might not prescribe it, the ability to find humor in our situation is key for maintaining of sanity, patience, and peace of mind.