Having trouble viewing this email? Click here to view it in a web browser.
Volume 2, Number 38, March 16, 2021
SAVE THE DATE: Virtual District Training Assembly is May 15
By Paul Nicholson
Here's your annual opportunity to learn how to become a better Rotarian!
Apply for grants? Discover new projects? Find out about best practice for club secretaries, treasurers, TRF Chairs, Membership Chairs? Learn to better use social media? Talk with your fellow Rotarians across our district?
You can do all that, and more, at our 2021 Virtual Club Training Assembly coordinated by District 5110 Trainer Paul Nicholson out of the Ashland Club!
Click here to go to the 5110 website and a Save The Date flyer for the Club Training Assembly on May 15. Registration opens April 6. Mark your calendar now – you won't want to miss this!
---
Call for District Award Nominations by April 30
By Charles J. Polk
District 5110 has a long history of outstanding leadership and volunteer commitment at the international, zone, district, and club levels. Each year, we have an opportunity to recognize individuals and clubs that distinguish themselves through their exemplary acts of Service Above Self. We do that at our annual District Celebration, which will take place this year in Bend on August 27-28, 2021.
.
In order to ensure that every deserving Rotarian's contributions are considered, DG Cindi O'Neil would like your help in identifying potential nominees for several awards.
Nominations must be presented to Awards Committee Chair District Treasurer (DT) Jim Polk or District Secretary (DS) Beth Sheehan by April 30.

Click here for full details on the numerous awards and the nomination process for each.
Thank you for helping DG Cindi recognize our valuable 5110 volunteers.
---
Eugene Emerald Valley club partners for homeless
By Cynthia Kallunki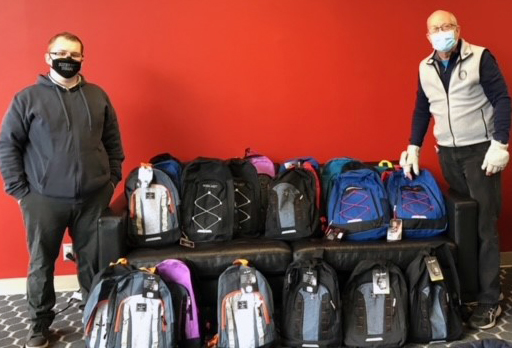 Eugene Emerald Valley Rotary is partnering with 15th Night to support homeless youth in Eugene and Springfield.
Rotarians used a District 5110 matching grant to purchase items identified by the 15th Night Student Advisory group.
The items, including warm hats, gloves, masks, flashlights and hand warmers, were packed into 24 backpacks. These will be distributed by 15th Night to area youth in need.
---
Accepting Sign-ups for the 2022 Rotary Peace Fellowship – Apply Now!
By Chuck Root
Promoting peace is one of Rotary's main causes. The fully funded Rotary Peace Fellowship, which covers tuition and living expenses, increases the capacity of existing leaders to prevent and resolve conflict by offering academic training, field experience, and professional networking.
Up to 130 fellows are selected every year in a globally competitive process based on personal, academic, and professional achievements. Fellows earn either a master's degree or a certificate in peace and development studies at one of the seven Rotary Peace Centers, located at leading universities around the world.
For additional information, click here for the whole story, contact Chuck Root at chuckroot1112@gmail.com or go to https://www.rotary.org/en/our-programs/peace-fellowships
---
Eugene Metro Invites all to Beekeeping Expert Presentation 3/23
By Heather Edwards
Paul van Westendorp, British Columbia's Chief Apiculturist and National spokesperson on the effects of the Asian giant hornet is not just a researcher. Join your friends at Eugene Metro Rotary on Tuesday, March 23rd at 6 pm to learn from his years of tropical apiculture experience in East Africa. He is an expert on beekeeping development and the income opportunities it creates for subsistence farmers. All are welcome!
https://us02web.zoom.us/j/89946123206?pwd=MVQrR3dZTG5VUC95SzR5SDVTTlRjdz09
Meeting ID: 899 4612 3206, Password: 520249
---
Zone 26/27 Virtual Interact Conference this Saturday
By Mary Hoskins
Rotarians who are involved with Interact, the Rotary-sponsored service clubs for high school students, will be interested in a Virtual Interact Conference on Saturday, March 20. It's free, and it will provide an opportunity to learn from Interact leaders in 30 Rotary districts.
One of the conference speakers will be our own Walker Sheidow, a Junior at South Eugene High School. Her Interact club has thrived during the shutdown, meetin
g regularly via Zoom and finding ways to serve. Walker created and spearheaded a virtual tutoring program where Interactors tutor over 50 elementary and middle school students. Walker is a cross-country runner and throws javelin and discus for her school's track team. She is a Red Cross volunteer and is active in the SPICE program that promotes STEM careers for women.
---
Assorted Levity for Your Rotary Week/Life
By Mike Corwin
While the doctor might not prescribe it, the ability to find humor in our situation is key for maintaining of sanity, patience, and peace of mind.