Having trouble viewing this email? Click here to view it in a web browser.
Volume 2, Number 36, March 2, 2021
5110 Rotaries Making History with Vaccine Assistance
By DG Cindi O'Neil and Ravitej Singh Khalsa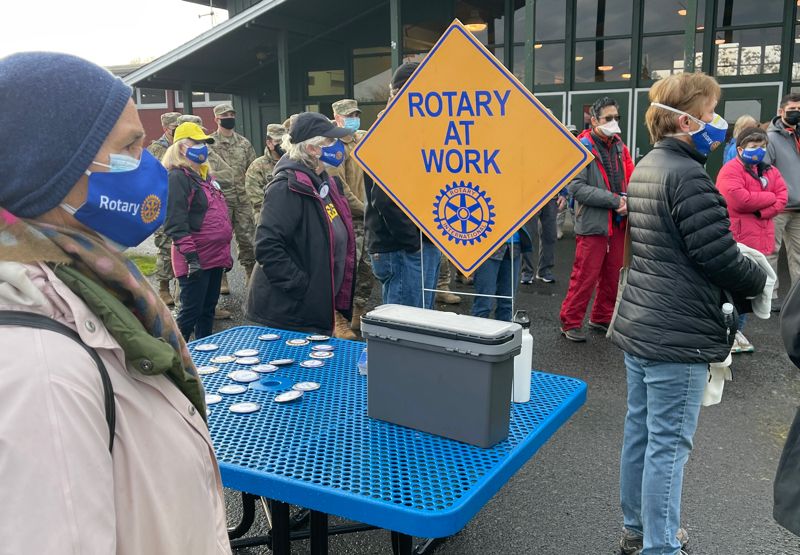 We volunteered during the 1918 Spanish flu pandemic and during the continuing effort to eradicate Polio. Now Rotary steps forward again to help eradicate COVID-19. Saturday morning over 20 Rotarians from the Rotary Clubs of Eugene volunteered to assist tired county workers with the
COVID-19 vaccine clinics. Liz Ness and AG Pete Gribskov put out the call for volunteers after making inquiries with the Lane County Health Department. Immediately Rotary members volunteered in a weekend effort that vaccinated over 3700 people.
Click here to watch a great photo gallery of the Eugene effort.
In Corvallis a there was a similar scene of Rotary volunteers working all day to help community members navigate the vaccine clinic there, among them our very own DG Elect Gerry Kosanovic and Executive Assistant Governor, Michele Kellison.
Reports from vaccine volunteer and Rotarian Linda Johnson, RC Bend Oregon, is that vaccine clinics are the new "happy place." These are places where there are smiles of new hope and optimism that our life will gradually return to normal. In support of Clubs that are assisting with the COVID vaccine clinics our District is supplying Rotary branded safety vests. Email DG Cindi O'Neil to receive them for your Club.

---
Attn: Club Public Image Leaders! Get these radio spots run in your market!?
By Judy Corwin
Does your club have the media contacts in your area who could get our radio Public Service Announcements into their rotation? It
could go far toward your membership, your community getting familiar with Rotary, your local brand