Having trouble viewing this email? Click here to view it in a web browser.
Volume 2, Number 33, February 9, 2021
Virtual RYLA to Feature 70 Students–Selections by end of March
By Mary Hoskins
Rotarians responded enthusiastically and quickly to the announcement of eRYLA in District 5110 – we upped the event maximum to 70 campers, and it filled up within a matter of hours! For information and inspiration, go the
website:
leadernu.com/ryla-info/d5110/
We're bringing this interactive and field-tested event to area sophomores and juniors from April 28 – May 2, 2021. The itinerary will work with high school schedules, with evening hours on Wednesday, Thursday and Friday, continuing to Saturday and Sunday.
As always, Rotary clubs will make the selections of the students they want to sponsor. Clubs can choose to reach out to specific candidates and/or interview potential participants via Zoom before referring them to the above website for an online application. Or – all interested students can apply, with the clubs making their selections from completed applications. Deadline for student applications is March 15 – clubs must make their final sponsorship decisions by March 24.
Click here to read about the entire process. Please feel free to contact District 5110 RYLA Camp Director, Mary Hoskins, with questions and ideas, at (541)531-8538 or rylaohyeah@gmail.com.
---
Express Grant Assists Klamath Basin Club in Serving Local Mission
By Jack Baumann
The Klamath Basin Sunrise Rotary Club raised $1,500 to purchase new bunk beds for the Klamath Falls Gospel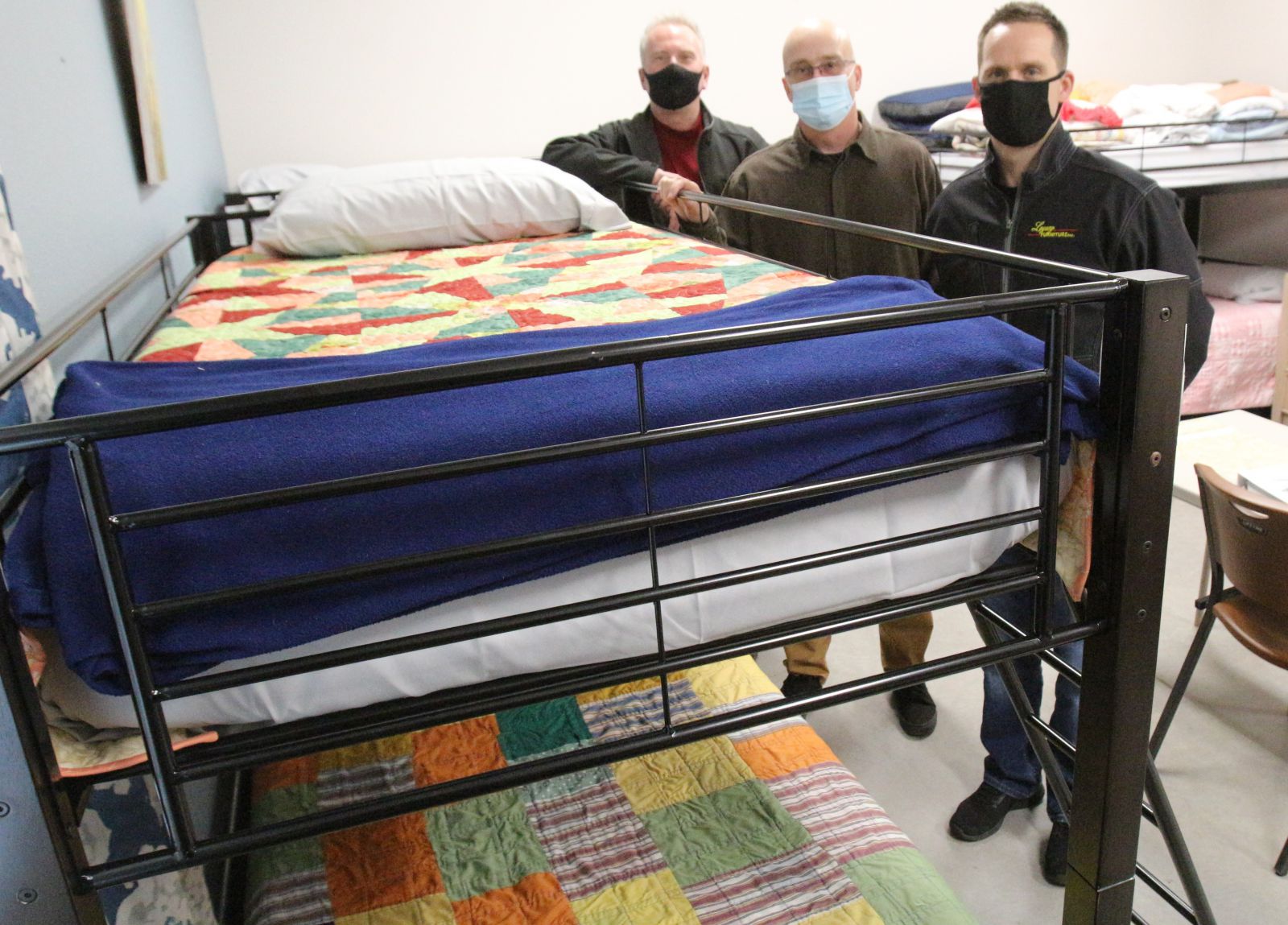 Mission. The Mission supplies housing and recovery services for Christian focus. Sunrise Rotary raised funds from its members, and paired those funds with a $500 new-member participation grant from Rotary District 5110. The effort drew coverage of the Klamath Falls Herald and News.
Legacy Furniture of Klamath Falls sold the high-quality bunk beds and also donated bedding materials such as mattresses, linens and pillows. Mark Willret of the Klamath Basin Rotary is pictured at the right with Gospel Mission Executive Director Ammond Crawford, who is also in the Rotary club, and Aaron Glass of Legacy Furniture as they show off an example of the great work. Click here for the entire website story and link to the local newspaper coverage.
---
Accepting Sign-ups for the 2022 Rotary Peace Fellowship – Apply Now!
By Chuck Root
Promoting peace is one of Rotary's main causes. The fully funded Rotary Peace Fellowship, which covers tuition and living expenses, increases the capacity of existing leaders to prevent and resolve conflict by offering academic training, field experience, and professional networking.
Up to 130 fellows are selected every year in a globally competitive process based on personal, academic, and professional achievements. Fellows earn either a master's degree or a certificate in peace and development studies at one of the seven Rotary Peace Centers, located at leading universities around the world.
For additional information, click here for the whole story, contact Chuck Root at chuckroot1112@gmail.com or go to https://www.rotary.org/en/our-programs/peace-fellowships
---
Feb. 16 District Membership Forum Tackles Virtual Recruiting
By Christine Waugh
The next District Membership Forum is about Virtual Recruiting and will be held Tuesday, February 16th at 10am. The topic has become critical during this COVID era. However, the skills we will cover for recruiting virtually will benefit our clubs long past COVID. This is an opportunity for us to learn some new concepts, and share our challenges, and solutions.
This month we have two facilitators – Steve Lingenbrink and Julie Aubry. Lingenbrink is currently the Zone 27 Rotary Coordinator. He served as District 5030 Governor in 2012-13, and President of the Bellevue Breakfast Club 2005. More recently Steve served as Assistant
Rotary Coordinator 2013-15, Zone 25/26 Membership Chair 2015-17, and Council on Legislation Representative 2014-2022. On the education side, Steve has served on the faculty of GNATS/GETS, all Big West PETS, and Training Leader at International Assembly 2017-18.
Julie Aubry is the Regional Membership Officer (RMO) at Rotary International World Headquarters working with
western United States and the south west part of Canada (Zones 26 & 27). She works with club, district, and zone level volunteers to support membership growth and engagement through strategic planning; vibrant membership initiatives; new club development; and promoting membership resources, tools and data.
The District Membership Forum is held every third Tuesday at 10am, and focuses on a topic chosen by the participants. Registration is not necessary, and is open to any club member with an interest in membership. Here's the link for the Forum every month: https://us02web.zoom.us/j/82289120983 or dial in at 1 669 900 6833. For more information, contact Chris Waugh at christine@leadersupportservice.com
---
Rebuild Continues on Rotary Business Network
By Bill Grile
D5110's Rotary Business Network (RBN) will be offline for the near future while a major update by the technical team continues.
You will hear about its return here on eNews and once we are back up, you'll recognize exciting new improvements at
https://rotarybusinessnetwork.org/ … so please stay tuned!
---
Rotary Now! / Leading Change Features Power of Podcasting Feb. 25
By Bill Grile
Join us for a relaxing night of exploration into the Power of "Podcasting" featuring experts Dr. Siobhan McHugh and Matt Livadary as the Thursday, February 25 Rotary Now! / Leading Change program. The 90-minute presentation will start at 7 p.m.

We have all been trapped inside for way too long. Let's take a journey of the imagination. With our experienced guides we will visit some extraordinary places. Feel the emotions of your fellow Rotarians as they serve and what that means to them. We will stop over in Africa, maybe visit a crime scene and experience things you probably only dream about. Along the way you will learn how to listen and how to tell your own Rotary story.

Registration is required for this event at no cost and soon after your registration, you will receive the Zoom details for the event. Click here to register.
---
Twain-isms, the Sequel, for your Rotary week/life
By Mike Corwin
Still more quotes from Mark Twain to take into your 2021 days AND a photo posted by a past 5110 DG showing the extra mile some go to mask up (guess who???)—SMILE!
"Don't go around saying the world owes you a living. The world owes you nothing. It was here first."
"Wrinkles should merely indicate where the smiles have been."
"What would men be without women? Scarce, sir…mighty scarce."
"Substitute 'damn' every time you're inclined to write 'very;' your editor will delete it and the writing will be just as it should be."
"Keep away from people who try to belittle your ambitions. Small people always do that, but the really great make you feel that you, too, can become great."
---
Tell Us Your Story:

The Brand/Public Image team in District 5110 welcomes news items for consideration toward the website, eNews, social media, or other publicity that might be of interest to our audiences. Please complete this form and submit it.
---
To unsubscribe from future emails, please click on this link: Unsubscribe