Having trouble viewing this email? Click here to view it in a web browser.
Volume 2, Number 32, February 2, 2021
Virtual RYLA Back Up for 2021 – Sign-ups until mid-March
By Mary Hoskins
We are delighted to announce that a fully developed, field-tested virtual RYLA program is coming to District 5110! It's an
exciting and engaging leadership retreat for high school sophomores and juniors – it is highly interactive and uses multiple tools to inform, engage, and connect participants. Check out
www.leadernu.com/ryla.info
– click on the button for District 5110 for specific information about our program.
We will accept 60 students with leadership potential and availability for the entire program – Wednesday, Thursday and Friday evenings, April 28-30, and Saturday and Sunday, May 1 and 2. Cost to Rotary clubs – $100 per participant. Contact RYLA Director Mary Hoskins by email at rylaohyeah@gmail.com or phone (541-531-8538. Clubs secure their places at RYLA by committing to send checks for the number of students they wish to sponsor. Clubs can then recruit students, who apply online at the website above – application deadline is March 15, 2021.
Promotional materials for Rotarians and clubs, including videos, will be available within a day or so. Feel free to call Mary directly with questions or concerns, or to reserve space at camp and get directions about sending payment. RYLA – Oh Yeah!
---
Rotary Business Network Down This Week for Major Update
By Bill Grile
D5110's Rotary Business Network (RBN) will be offline next week as a major update is being performed by its system administrator. You'll recognize exciting new improvements when
https://rotarybusinessnetwork.org/
comes back online in a week or so. Stay tuned!
---
Rotary 4-way Test Speech Contest Registration Underway
By Freddy Saxton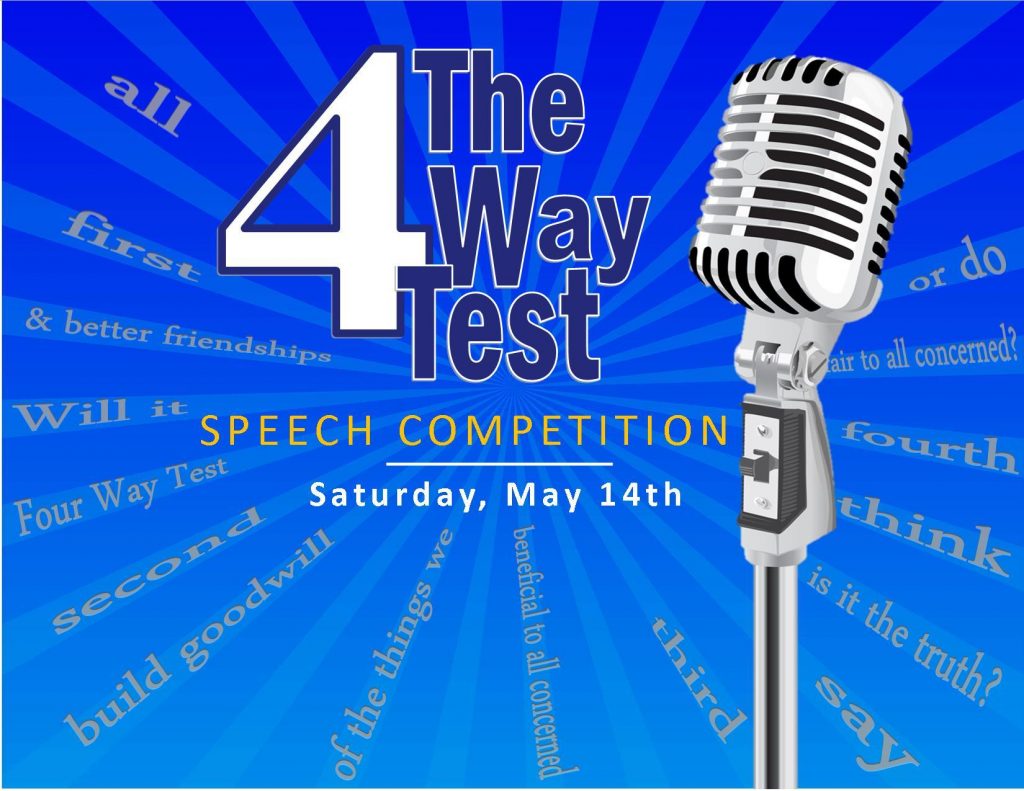 Rotary District 5110 is excited to present this year's 4-Way Test speech contest in order to provide the same wonderful opportunities to the students within our district. Registration forms are now being accepted, and clubs are scheduling contests at their local level which will be held in March and April. The local level contests will be held virtually, or in a safe distanced environment in compliance with the local protocol in the individual club's location.
We are cautiously optimistic that we can hold the finals in person during our District Conference Celebration May 28, but that will obviously be dependent on how things develop. Please help spread the word to the schools in your community and let's make this a great year for our District 4-Way Test speech contest! For more on the effort, click here. For info, contact Freddy Saxton, Newport Rotary
---
Twain-isms for your Rotary week/life
By Mike Corwin
More quotes from Mark Twain to take into your 2021 days—SMILE!

"If you tell the truth, you don't have to remember anything."
"Good friends, good books, and a sleepy conscience: this is the ideal life."
"A lie can travel half way around the world while the truth is putting on its shoes."
"God created war so that Americans would learn geography."
"Classic? – a book which people praise and don't read."
---
Tell Us Your Story:

The Brand/Public Image team in District 5110 welcomes news items for consideration toward the website, eNews, social media, or other publicity that might be of interest to our audiences. Please complete this form and submit it.
---
To unsubscribe from future emails, please click on this link: Unsubscribe