Our speaker today is Chrissi Brewer from the Siskiyou Sustainable Coop. She'll be speaking on the topic of "Communty Supported Agriculture in Rogue Valley"
Siskiyou Sustainable Coop is a membership organization of sustainable farmers in Southern Oregon and Northern California who providee locally grown wholesome foods through community supported agriculture networks. Chrissi Brewer will provide information about the benefits of locally grown foods and the CSA concept of delivering locally grown foods.
See you there?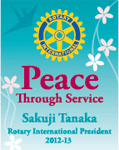 clubrunner.ca
The Rotary Club of Medford is the original Rotary Club in Southern Oregon. We are a service organization, foundation, charity, and non-profit, where members volunteer and network with their peers. Powered by ClubRunner.