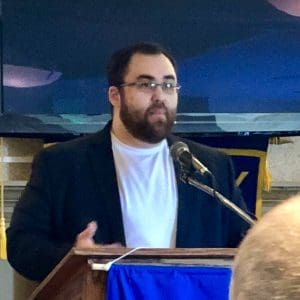 Peter Jenson, founder, and CEO of Erndo spoke to the Club today about what  AI and Blockchain are all about and how these advances in technology can be put to use to improve local economies and communities.
AI was started with the advent of logic – Aristotle if x = y and y = z then x = z. It's been around a very long time. The printing press is one of the cornerstone moments in AI. Clocks store information to present the time of day. These are examples of AI. AI allows the access of information, the printing press – artificial intelligence empowers people to use that information.
Problem: small business are dying than are being replaced today. The annual rate of business creation has gone down by 1/3. The technology gap is significant – particularly with the advent of micro-targeting.
Erndo automates the process of allowing a small businesses micro-influencers to promote the business. Currently, it's in an alpha phase, capped at 100 businesses and 600 users – taking place here in the Rogue Valley.
Here is a helpful video about Erndo if you'd like to learn more: