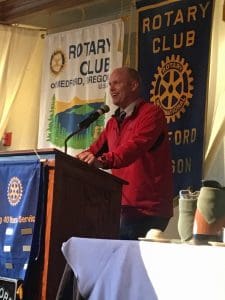 Piet Voskes shared some of the histories of the Medford Rotary Relays, which takes place this weekend. Since it was started in 1939 and has become the premier track meet in Southern Oregon. Today it has more athletes than any other event and 19 schools, and 780 kids with 120 high jumpers alone.
This year there will be a 3-minute exhibition run at the end. There will be a throwers relay (plan on seeing that on ESPN).
There is also an Athlete of the Meet – the athlete who performed best overall in the event – and usually, it's not someone who has placed in the other events.
All in all, this is a great event, lots of fun, and loaded with talent.